Saturday, June 21 at 7.00 PM
SATURDAY, JUNE 21ST TONI VERDE WITH A LIVE SET AT THE SPANISH STEP PRESENTING "UNITY" FOR A NEW WORLD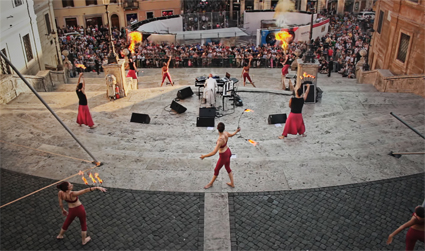 In celebration of the 20th European Music Festival on Saturday, June 21st, Toni Verde will perform "Unity", a new album for a new world of unity and sharing, at the Spanish Steps.Saturday, June 21st at 7.00 PM. The Spanish Steps in Rome will provide a splendid backdrop for the concert of Toni Verde who will present "Unity," in its international premiere, to a lively audience in honor of the 20th European Music Festival. The new album is born from a fusion of various musical styles and metaphorically is inspired by the union of being one with the universe for the creation of a new dimension.
The artist will perform a live set on the famous Trinità dei Monti stairs accompanied by singers and acrobats in one exciting show, performing the tracks from the unreleased album, "Unity", which takes its title from the single where the artist reveals the power of eternal and immutable love, a symbol of union and with the power of transformation for a new world, in a prophetic tone.
The lyrics say: "The world is Unity, Love is Unity" and than "Everything can change, only love is for eternity."
"Circus in the Sky," with its apocalyptic style and symbolism, opens the tracklist of the new album and the sweet neo-pop melodies with additional Gothic shades of "Princess of the Desert" contrast the poignant rhythmic structure present in "Planet of the White Rabbit" which merges a more wild electronic beat while the glacial sounds of "Dreaming" transport the listener to a dimension of symbolic and endless spaces.
The album, mastered by Greg Calbi of "Sterling Sound" in New York, is produced by Giorgia Scanzani on the label "Crescendo Recordings", white the artwork was done by Daniela Fusco.
Toni Verde is back on the music market following the success of last year with "The World to Come", a classical music album, which been in first place of the Classic Chart of iTunes in Italy and in the Top 10 in Usa and UK for over 16 weeks.
Crescendo Recordings Press Office Sabrina Taddei crescendorecordings@gmail.com